Experts from Ha Tinh Museum in the north central coastal province of Ha Tinh yesterday unearthed a rare antique bronze seal sculpture from Tung Anh commune in Duc Tho District of the province.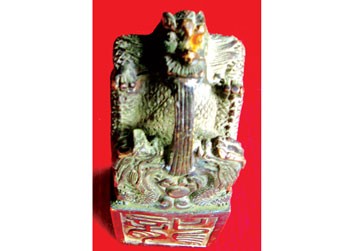 The antique bronze seal sculpture is found in Ha Tinh Province. (Photo: Sggp)
The bronze seal sculpture lay embedded in a pottery jar, buried around 2 meters under the ground.
The antique sculpture is 18 cms high and weighs 1.3kg. It has a carving of a dragon on the top and two smaller dragons carved at its base. The antique is encrypted with the Han Chinese script.
Experts believe that this rare find, made by skillful artisans, belonged to the Nguyen Dynasty.
The antique discovery is being kept at the Ha Tinh Museum for researchers to study it further.