Tran Quoc Thien of Dong Nai Province easily won the Vietnam Idol final January 14 by securing 64 percent of viewers' votes.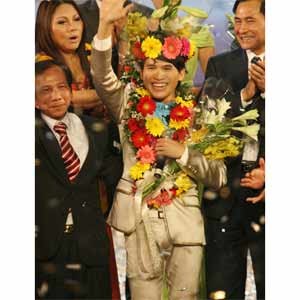 Quoc Thien after winning the 2008 Vietnam Idol contest Wednesday (Photo: SGGP)
Mr. Thien, 21, who beat Pham Tran Thanh Duy to the title, got US$10,000 and a recording contract with Music Face, a private music label owned by one of Vietnam's leading musicians, Duc Tri.
 
He earlier took part competitions like 'Sao Mai Diem Hen 2008' held by Vietnam Television and 'Vuon Toi Uoc Mo' by Music Box Entertainment before joining boy band N9.
 
To Mr. Thien, who was born into a poor family in Dong Nai Province, winning the event is a dream come true. He said his music has been influenced by rhythm and blues and modern Vietnamese folk.
 
Runner up Mr. Duy from the Mekong Delta province of Tra Vinh is inspired by the music of Justin Timberlake, My Tam, Y Van, and Vo Thien Thanh.
 
The two beat 15,000 competitors to make it to the final held at Hoa Binh Theatre.  
 
The Vietnam Idol is based on the British television hit show Pop Idol and is produced by Ho Chi Minh City Television and Vietnam Advertising Company. In its first season in 2007, Phuong Vy was the winner.
 
The audience vote is polled by Singapore audit firm, TS Tay & Associates.