A remarkable exhibition showcasing the history and culture of Truong Sa (Spratly) and Hoang Sa (Paracel) Islands opened in the central province of Quang Ngai on April 24 until May 4.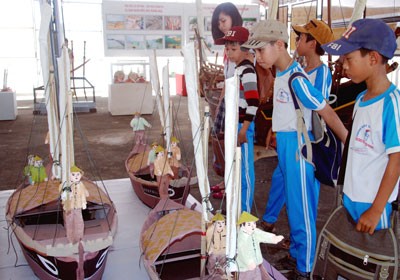 Students see models of old boats used by Hoang Sa Flotilla soldiers 400 years ago (Photo: SGGP)
The exhibition is part of the many activities scheduled for 'Sea and Island Cultural Week 2013' that will take place in Quang Ngai Province from April 25-29.
Visitors to the exhibition will see antiques of ancient Sa Huynh and Champa cultures that were discovered in Quang Ngai Province, and tools that Hoang Sa Flotilla soldiers used doing their daring missions to the East Sea Islands.
The exhibition will showcase models of boats which Hoang Sa Flotilla soldiers used 400 years ago to sail out to the archipelago islands for survey work, and to build the historical milestones.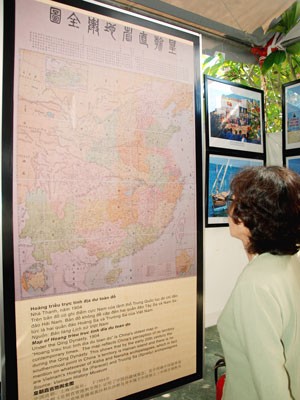 Chinese administrative map of provincial boundary published under the Qing Dynasty in 1904 does not include Xisha and Nansha Islands or Hoang Sa and Truong Sa Archipelago of Vietnam (Photo: SGGP)
Nearly 200 maps and historical documents and images relating to Vietnam's sovereignty over the two archipelagoes and visualizing the daily lives of island residents will be shown in detail.
The exhibition will also display documents from the Nguyen Dynasty that were used by the former Kings to nominate persons to higher ranks and commending pioneers who developed the land into cultivable and productive areas from Thua Thien-Hue to Quang Ngai Provinces.