Mr. Le Van Thanh, Vice Chairman of the Quang Nam provincial People's Committee, said that the large-scale event will inlcude cultural, sport and tourism activities with the participation of local and foreign researchers, scientists, artists, athletes, diplomatists and investors. Numerous activities will take place in Hoi An, Tam Ky , My Son and some districts in the province.

Highlight events are seminars on evaluating and praising the preservation of the ancient town of Hoi An and My Son Sanctuary, the community's role in conserving and promoting the UNESCO world heritage sites; fine art exhibition titled "Cultural Heritage" featuring 100 fine art works of painters, sculptors in and outside the province.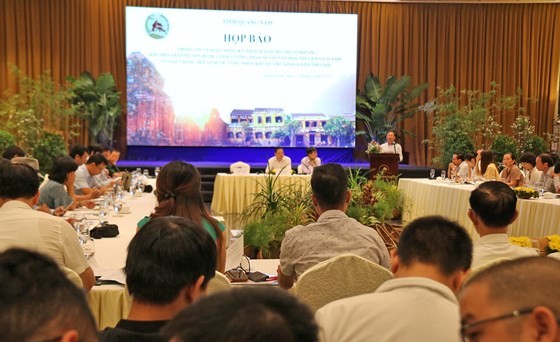 At the press conference (Photo: sggp)
The real performance of "Memories of Hoi An", Miss Indochine beauty contest, VTV International Cycling Tournament and more will be held on the occasion.