Vietnam's first sea and island festival will be held in the central province of Quang Binh in June, the Ministry of Natural Resources and Environment has announced.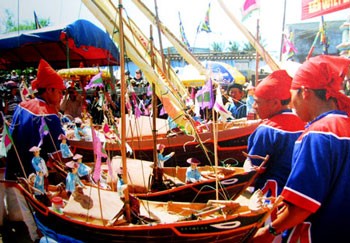 A ceremony honoring and commemorating the Hoang Sa fleet which patrols the Hoang Sa (Paracel) and Truong Sa (Spratly) archipelagoes was held on Ly Son island in the central province of Quang Ngai on April 28
The festival is part of activities marking the International Year of Biodiversity, the World Environment Day on June 5 and World Oceans Day on June 8.
The week-long event will include a series of programs including a fair promoting the sea-based economy and meetings to commemorate the World Environment Day and the World Ocean Day.
A sand painting contest for students, an exhibition of photos on seas and islands and many other activities will be held during the festival.