Pupils Nguyen Vu Thao Uyen, Ha Gia Bao, Le Tran My Duyen, Nguyen Anh Thu, Nguyen Kim Thuy and Tran Thien Que Nhung have won the first prizes of a contest on drawing pictures and designing greeting cards called "I love my school" to celebrate the Teacher's Day, November 20.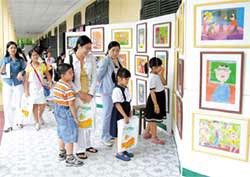 Wining paintings and greeting cards are displayed.
Through the contest, the pupils showed their love and respect to their teachers and at the same time developed their dexterity and painting aptitude.
The organizers received more than 4,600 paintings and 3,589 greeting cards from thousands of pupils of Kindergartens, Primary Schools, Secondary Schools and Centers for Disadvantaged Children throughout the city.
The award ceremony of the contest organized by the Ho Chi Minh City General Sciences Library and Golden Pencil Ltd,.Co (with the brand of Mango crayon) was held on November 20.