Professor Tran Van Khe gave a lecture titled "Diversity of Dan tranh (Sixteen-stringed zither) of Vietnam" to folk music lovers and young people at his Ho Chi Minh City home on October 21.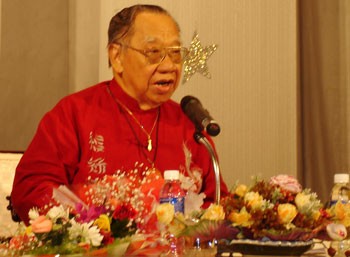 Professor Tran Van Khe  (Photo:Uyen Phuong)
He shared his knowledge of the Dan tranh's origin and its place in southern folk music, outlining the relationship of the Dan tranh to other traditional Vietnamese instruments.
According to the music master, the diversity and quintessence of Dan tranh is comparable to ancient traditional music instruments like the Chinese Guzheng, Japanese koto and Korean kayagum.
The talk, part of a series including seminars and performances of Vietnamese traditional music, has taken place for the last three years at the professor's home in Binh Thanh District, HCM City.
The lectures aim to keep traditional music alive in the community and foster a love of folk music among young people.