Famous cai luong actress Bach Tuyet and Ho Chi Minh City Television will introduce to cai luong devotees a special performance entitled "Epic of Prison Diary" in coming time.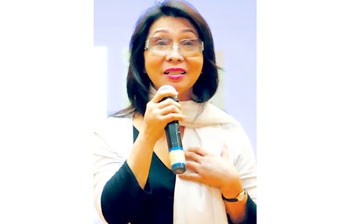 Cai luong actress Bach Tuyet
The actress said that the "Epic of Prison Diary" adapted from President Ho Chi Minh's Prison Diary is a pray for martyrs who scarified their lives for national independence and freedom.

The epic features Vietnamese traditional music of the North, Central and South with supports of well-known cai luong musicians consisting of Thanh Hai, Kieu Tan and Khuong Cuong.
The 100-minute cai luong show is the fifth part of the program titled "Culture-National folk culture" of Meritorious Artist Bach Tuyet

The first part is called "Epic of the Dhammapada". The Dhammapada means "the path of dharma," the path of truth, harmony, and righteousness. The text is part of the Khuddaka Nikaya of the Sutta Pitaka and includes the Buddha's "doctrine.

The second part is "Buddhist epic in the heart of the nation". "Epic of the Diamond Sutra" and "Epic of King-Monk Tran Nhan Tong", the founder of Vietnamese Zen Buddhism, is the third and fourth parts, she added.