Traces of prehistoric man have been found near Ba Be Lake, in the northern province of Bac Can.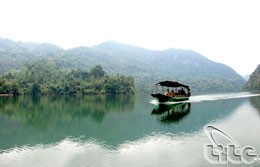 Ba Be lake
Members of the Vietnam Archaeological Institute and the Bac Can Museum have been excavating the area for possible prehistoric remains since June.
Numerous artefacts, dating from 20,000BC to 10,000BC, have been found in Tham Hau, Tham Coc Nghiu and Tham Mya villages in the Nang River valley.
Trinh Nang Chung, from the Vietnam Archaeology Institute, said Stone Age people inhabited the area for many thousands of years and were responsible for what has become known as the Hoa Binh culture (10,000 BC).