Integration is a term that has been continuously mentioned since the end of 2006, especially after Viet Nam becoming a member of WTO. Cultural integration is an inevitable tendency.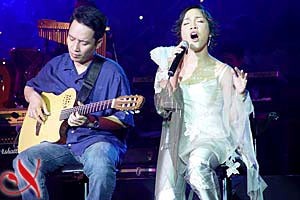 Musician Anh Quan and his wife, singer My Linh
In 2006, a number of plays were organized with the assistant of foreign partners, like "The Circle of Sand" (with France), "The Visit" (with Switzerland and Germany), and notably, the great ballet "Cosi Fan Tutte (The School for Lovers)" (by Mozart), which is a collaboration between Viet Nam Theatre of Ballet and Drama and Sweden.
Mr. Pham Hong Hai, deputy director of Viet Nam Theatre, said: "The opera and symphony have advantage in integration as it originates from Europe. In the year 2006, apart from "The School of Lovers", the theatre staged one opera and other four ballets. In 2007, there will be more projects in cooperation with foreign partners. Concretely, besides Sweden, we will develop relations and work with theatres of Japan and Thailand."
Other types of performing art also have similar opportunities. Anh Quan, a music composer, commented: "Recently, many groups of artist have been abroad for performing, but they all just introduce the Vietnamese music because no contract with a prestige record company have been signed".
"We have to integrate into the world's music industry with respect to both artistic and technical aspects. There must be international characteristics in our musical products but unique Vietnamese qualities should be also maintained. The international characteristic refers to the clearness in types of music such as rock, pop, R&B, Hip-Hop, which we are still confused about", he added.
Because we cannot impose our style of music on other countries, so the more international characteristics our music carries, the easier it is for us to integrate into the world music industry. Traditional element is not the key factor in the process of integration.
Concerning music arrangement, in general we lack modern technical instruments. However, some studios still meet required standards which guarantee the quality of their products such as those of Viet Tan, Duc Tri, Anh Quan …
Besides, if we want a share of foreign markets, we have to let them join our market, which is very important in the integration process. Inviting international record and communication companies to Vietnam is a good chance for them to evaluate our market and MTV Asia must be in Viet Nam. We also need to solve the intellectual properties problem.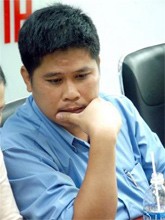 Phuoc Sang, director of the Phuoc Sang Film Studio.
In another area, Phuoc Sang, director of Phuoc Sang Film Studio, said: "Many American films, including blockbusters, are shown in Vietnam just weeks or even days after coming to the US theaters, which means the world's leading film producers and studios are very interested in Vietnam. In addition, copyright protection is rather good in Vietnam. Vietnamese cinema also nutures young and enthusiastic talents. With respect of technical instruments, we are rather sufficiently equipped. However, Vietnamese cinema is still perplexed in seeking for its own way to integrate into the world's playground. There should be national strategies for Vietnamese cinema. Human resource training in the cinema field is being neglected".
"Television is the best means to introduce the Vietnamese culture. Vietnamese television has changed a lot since we were not yet a member of WTO thanks to the implementation of advanced television techniques in producing domestic programs", Mrs. Le Thi Phuong Thuy – the chairwoman of Tri Viet Media Corp added.
"At the beginning of December 2006, Tri Viet installed the first 3 world-standard dubbing rooms in Viet Nam at the cost of USD 2m. At the end of 2007, another 20-million-dollar studio will be inaugurated. This is a result of the cooperation between Tri Viet and Korean TV Production Company SBS".
"Tri Viet will also cooperate with BBC, NHK and French TV in producing 3 projects: a TV series, a TV show and a documentary film. They are planned to be on air in 2008. There are more and more participants in Vietnamese cinema market, but we should have concrete strategies if we want to have a share of the Asian and the world's markets. We do not lack young human resources, but how to use it is a matter".