A concert celebrating singer Hien Thuc's 25-year career will be held at Nguyen Du Indoor Stadium on March 1.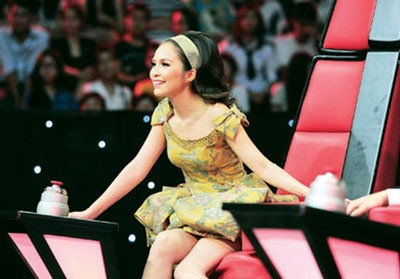 Singer Hien Thuc is a judge in The Voice of Vietnam Kids in 2013.
Singer Bach Yen and pop star My Tam will join the performance.
Hien Thuc was introduced to music at an early age and is currently a well-known artist in the country.
She was featured on stage at eight years old and became a popular child star in Ho Chi Minh City. Thuc won the gold prize at the Asian Young Artist Contest in Shanghai in 1999.
After taking a break from the music industry for a few years to raise a family, the singer returned with a new project themed "Five Basic Elements" in 2004. She has produced albums "Metal", "Wood", "Water", "Fire", and "Earth" since then.
She was also a judge in the first season of The Voice of Vietnam Kids in 2013.