After five years of implementing the plan of introducing Vietnamese fine art forms to foreign tourists, it has not produced positive results as policy makers expected.
Among various fine arts that had been introduced to visitors to Ho Chi Minh City, only Vietnamese water puppet has still had regular shows while other Vietnamese traditional arts have sporadic presentations.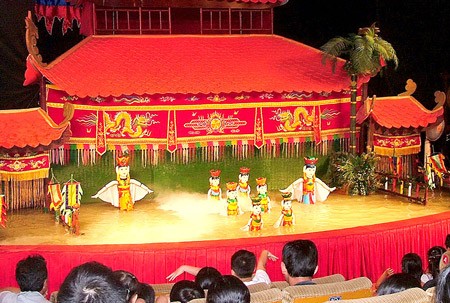 A puppet show presented in the City's Culture House for Workers (Photo: SGGP)
Rong Vang (Golden Dragon) water puppetry troupe has performed over 2,400 shows to more than 150,000 foreign and domestic tourists to the city under contracts signed with travel agencies at the city's Culture House for Workers at 55B Nguyen Thi Minh Khai Street in District 1, said Impresario Huynh Anh Tuan. More foreigners enjoyed the unique entertainment of Vietnam at the theater.
Puppeteers of the troupe perform two shows everyday but three shows for Sunday with 120 spectators each.
Tuan said facilities in poor-repair hindered tourist agencies to introduce puppet shows into tour programs.
In addition, the Tran Huu Trang Cai Luong Theater, HCMC Hat Boi Art Theater, and HCMC Circus Art Troupe are short of groups of professional marketing persons while artists have not taken advantaged of internet by building websites to introduce the unique art form to people in the world.
The deputy Director of the HCMC Department of Culture, Information and Tourism, La Quoc Khanh, said that the relevant departments, travel services will join hands to find ways out for the specific art. Under a plan, Saigontourist Holding Company (Saigontourist) will construct a stage in Binh Quoi Tourist Village meanwhile artists of the Bong Sen (Lotus) Theater and Phu Nhuan Theater will perform.
The HCMC Department of Culture, Information and Tourism is going to present Vietnam's traditional arts on a website which tourists can study the unique art form as well as book tickets in advance.
Khanh said if everything goes smoothly as scheduled, the stage will commence in the end of this year. However, he fretted traffic gridlock will impede the plan, proposing the city People's Committee to improve the route from the downtown to Binh Quoi Tourist Village.
Furthermore, city government should work out a strategy to build modern theaters in suburban districts with impressive art programs in order to attract more audiences to traditional arts and develop art tourism.