A picture book entitled 'Integration Milestones' with 150 photos selected from are now on display at an exhibition at the Rex Hotel, District 1, in Ho Chi Minh City from August 26-28
The bilingual book, published in both Vietnamese and English by the Vietnam News Agency Publishing House, includes three parts: 'Integration', 'Friendly Neighbors' (Vietnam – Laos – Cambodia) and 'Vietnam's Milestones at International Forums'.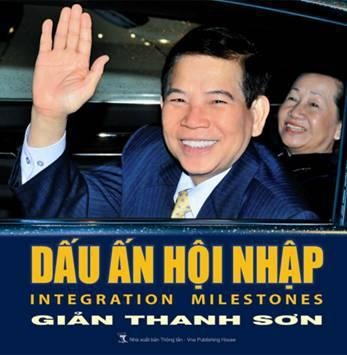 The cover of the book
The 400-page book introduces 345 photographs describing official visits by former state President Nguyen Minh Triet to 25 different countries during his tenure from 2007 to 2010.
The photos also highlight Vietnam's diplomatic achievements along its path towards integrating into the world.
The pictures were taken by photojournalist Gian Thanh Son, who had chances to go along with the former President on his visits.
The book was recognized as the first high-grade book about Vietnamese diplomacy by the Vietnam Guinness Book of Records at its launch on August 26 in Ho Chi Minh City.