A book titled "Integration mark" featuring photographs of diplomatic meetings between Vietnam and foreign countries, by photographer and journalist Gian Thanh Son has been published by the Vietnam News Agency Publishing House.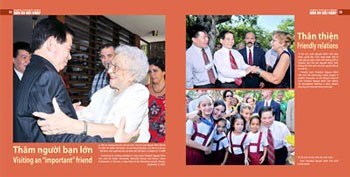 President visits Cuba in 2009

The 400-page bilingual Vietnamese-English book introduces a historical background of countries that have diplomatic relations with Vietnam.

Journalist Son took three years to complete the book while accompanying President Nguyen Minh Triet on official visits from 2007 to 2010.
Son will soon release the second volume presenting pictures he took during Prime Minister Nguyen Tan Dung's official visits to various countries.
In addition, he will launch a pictorial book of photographs that were presented to the public in exhibitions from 2003 to 2010.