A concert titled "Piano & voice" featuring pianist Nguyen Bich Tra and tenor Nguyen Hai Dang will take place at the Ho Chi Minh City Conservatory of Music on August 5.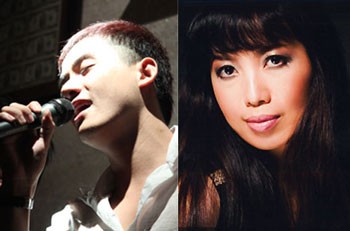 Tenor Nguyen Hai Dang and pianist Bich Tra (R)
The two artists will present to music lovers masterpieces from famous composers such as Schubert, Schumann, Joachim Raff, Frederic Chopin and Mozart.
Nguyen Hai Dang is popular in singing contests for students in Ho Chi Minh City. After graduating from the Department of Vocal Music in the Ho Chi Minh City Conservatory of Music, he has continually tried to improve his singing skills.
Pianist Bich Tra is the daughter of movie star Tra Giang and Professor Bich Ngoc. After leaving the Russian Tchaikovsky Institute of Music with a master's degree, she continued her studies at the British Royal Music Academy. She graduated with the highest marks, earning the Walter MacFarren Award for best student. In 2000, Bich Tra won first prize at an international piano contest, 'Brant in UK'.
She has performed in many countries like Russia, Poland, Germany, Norway, Spain, Italy, UK and the USA.

She was chosen as the "Ten most influential Youth of Vietnam" in 2002. Tra is working and living in London.
Her recent orchestra recording debut of romantic Swiss-German composer Joachim Raff's Suite has been well received with superlative reviews and was chosen as Album of the Week by The Independent in March 2010.
In 2011, Tra will be recording three CDs of Joachim Raff's piano music with Naxos.