Phu Quoc ridgebacks representing Vietnam at Paris world dog show have come down stage with compliments, yet got no chances for many titles as they were yet an official breed according to the Fédération Cynologique Internationale (FCI).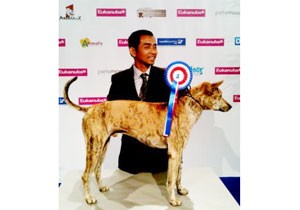 Vietnam's Phu Quoc ridgeback Dom from Vietnam's team receives the French Best of Breed prize at the recent Paris world dog show
FCI, or World Canine Organization, has given two Phu Quoc ridgebacks from the southern Phu Quoc Island exceptional entries to the show, organized on July 7 and 10.
Vietnam's team sent the national champion Dom (spotted) and born August 2006, and Ven (stripped) to be Dom's companion.
At the French national round, Dom won the title "Best of Breed" and Ven was praised "excellent".
But Dom was almost not considered for the Best of Group title later as the judge of its group claimed that he know little about ridgebacks, a Tuoi Tre report said Monday.
The judge only accepted to take a look at Dom after his handler Le Tuan complained to the organizers.
Yet the final winner was neither Dom nor another Thailand's ridgeback in the group.
At the international BOB round, Dom and Ven remain the only two candidates of Phu Quoc ridgeback category, promising a chance to bring the breed back to FCI list as 117 years ago.
The expected candidate Dom walked tiredly during his performance while Ven made a good one.
Espen Engh, a judge from Norway, gave Ven CACS, a French certificate for beautiful dog at world level, yet he refused to give the dog the award and cup for the world's Best of Breed.
Big hope and preparation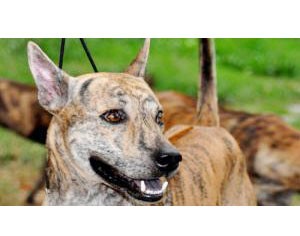 Dom, Vietnam's hope at the recent Paris world dog show
The world dog show 2011, which marked 100th birthday of FCI, was joined by more than 38,000 dogs from more than 130 countries and territories in ten different groups.
Vietnam Kennel Association and the owners of Dom and Ven have spent four years and  a lot of their own money on efforts to get the dogs into the competition.
Dom used to win first prize at Vietnam Kennel Association's dog show 2009 for his stubborn look and horse-pace run. He also won first prize in a national Phu Quoc ridgeback competition in 2009.
Vo Hong Hai, Dom's owner from Ho Chi Minh City, has paid nearly VND30 million (US$) to get medical check for Dom, his fight tickets and two guards for him.
Hai also asked Le Tuan, the owner of TrangLe Neapolitan Mastif dog farm in Canada, to go to Paris to be Dom's handler.
Tuan said "I was so happy when many people stopped and asked what dog he is that he's so beautiful.
"And I was also surprised that many people know he is Phu Quoc dog."
Ven was sent to Paris later on cargo as there're no one accompanying him. His handler Pham Thanh Buoi waited for him at the Paris airport Charles De Gaulle.
Buoi has more than ten years of experience managing dozens of dog-armed security guards.
He said Ven's legs had almost gone numbed at the arrival as he had tried to hold his bladder and stuff during the flight from HCMC.
"That is one of the precious characteristics of Phu Quoc dog," Buoi said.
Ven's owner Ly Nguyen Khon had sent him urgently to Paris as the delegation wanted Dom to have companion, and to promote for Phu Quoc ridgebacks.
"Khon knows that Ven cannot win Dom for many reasons and yet he still sent the dog over," Buoi said. "Sending a dog that urgently cost very much, I would like to give Khon a bow for respect."
Ven arrived just in time of him and his handler to get familiar and practice for the show right at the airport.
Huynh Thi Thanh Thoc, a vet and vice chairwoman of VKA in the Vietnam's delegation in Paris, said that she found Ven had some fever but had to let him into the show as "it would look odd letting Dom stand in there alone."
"Big hand for Dom as he has done great and won French BOB. But we have to thank Ven as well."
Officials from the Vietnam delegation said that Vietnam needs to do a lot in the years to come so that efforts to bring Phu Quoc ridgebacks back to world recognition would no longer be worthless.