Fifty photos about late Venezuelan President Hugo Chavez are on display at an exhibition in Hanoi that opened on February 21.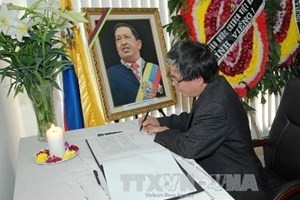 Deputy Foreign Minister Pham Quang Vinh paid floral tribute to commemorate late Venezuelan President Hugo Chavez (Photo: VNA)
The event was co-organised by the Venezuelan Embassy, the Vietnam Academy of Social Sciences' American Studies Institute and the Vietnam News Agency (VNA).
According to Head of the Institute Cu Chi Loi, the photos help viewers better understand President Chavez's life and career, including his activities when visiting Vietnam.
The Venezuelan leader, who died of cancer on March 5, 2013 at the age of 58, devoted all his life to the national liberation and the country's development and made an important contribution to consolidating friendship with Vietnam, he said.
Do Van Hop, Director of the VNA's News for Foreign Services Department said the agency provided most of the documentary photos relating to President Chavez.
The exhibition will help strengthen ties between Vietnam and Venezuela, he added.
For his part, Venezuelan Ambassador Jorge Rondon Uzcategui said the exhibition is part of the "Chavez was here" campaign being held worldwide.
He also added that the year 2014 marks the 25 th anniversary of Vietnam-Venezuela diplomatic ties and 50 years since Venezuelan guerillas captured a US lieutenant colonel to exchange with Nguyen Van Troi, a young Vietnamese patriot.
The event will last until March 7.