The display titled "Ly Son today" inlcudes more than 100 pictures taken by photopgrapher Nguyen A, recording beautiful moments of activities of the local people's daily living on the island.

On this occasion, the veteran artist also presented to readers his latest photo book of the same name featuring hundreds of photos, including artworks of the annual "Le khao le the linh Hoang Sa" (Feast and Commemoration Festival for Hoang Sa Soldiers) ceremony ; an exhibition house and monument honoring and commemorating the Hoang Sa Bac Hai (North Sea) fleet; traditional crafts and the living of people on the island. The book is published by the Vietnam News Agency Publishing House.
Ly Son Island, a tranquil destination 30km off the province's coast, is home to more than 2,100 residents. Most make their living of fishing, and farming garlic and spring onions.
About 3-4 centuries ago under the Nguyen Lords' mandate, 70 of the island's best seafarers were chosen to safeguard their homeland's maritime rights and explore the East Sea every year. In mid-sixteenth century, the Hoang Sa Flotilla was established to conduct marine patrol and control, exploit marine products and collect ship-wrecked cargoes floating to Hoang Sa and Truong Sa areas.
The annual "Le khao le the linh Hoang Sa" (Feast and Commemoration Festival for Hoang Sa Soldiers) held annually for hundreds of years on the island is a tribute to the sailor-soldiers who sacrificed their lives for the country and symbolize Vietnam's sovereignty over the Hoang Sa (Paracel) archipelago.
Previously, Nguyen A published books, including "Don ca tai tu – Loi tu tinh cua dan toc, que huong" (southern folk music – love lyrics of the homeland), "Ho da song nhu the" (their way of life), "Tam - Tai, ho la ai?" (people with devotion and talent), "Nick Vujicic va nhung ngay o Viet Nam" (Nick Vujicic in Vietnam), "Hoang Sa, Truong Sa - Bien dao Viet Nam" (Hoang Sa – Truong Sa, Vietnam's Sea and Islands)
The photographer plans to release two photo books on Hanoi and typical young people who have outstanding contribution to the country in coming time.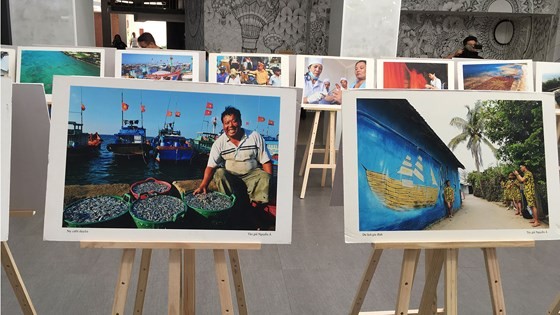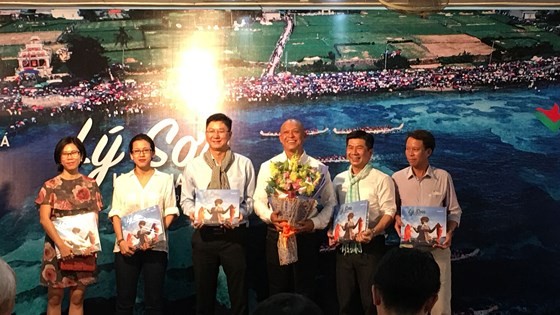 Photopgrapher Nguyen A (3rd, R)