A photo exhibition entitled "Ho Chi Minh City towards Hanoi- the capital's a thousand years of culture" is being held in the city by the Vietnam News Agency (VNA).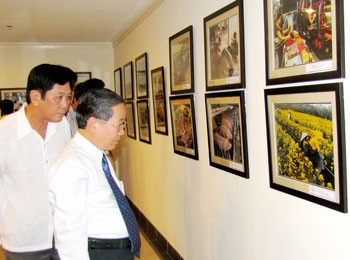 Viewers contemplate photos in the exhibition.
The display features 100 color, and black and white photos taken by VNA's journalists and other photographers.

Pictures describe Hanoi in the past, the late President Ho Chi Minh and leaders with Hanoi people, Hanoi in war time and building peace, Hanoi's landscape, architecture and daily life, and HCM City towards Hanoi.

The event will run until October 2 at the International Cooperation and Information Center of the VNA Representative Office in Ho Chi Minh City at 116-118 Nguyen Thi Minh Khai Street, District 3.