A total of 120 photos on China's world heritage sites are on display at an exhibition in Hanoi.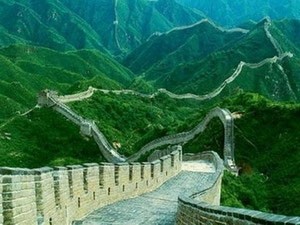 Great Wall of China
The photo exhibition themed "China today" is an activity to mark the 60th anniversary of the Vietnam-China diplomatic ties and the Vietnam-China Friendship Year.
Addressing the opening ceremony on August 2, Head of the Ministry of Culture, Sports and Tourism's International Cooperation Department Nguyen Van Tinh said that the 12-day exhibition will help Vietnamese people better understand Chinese land and people through cultural heritage, thus contributing to enhancing the solidarity, friendship and cooperation for development between the two Parties, States and people.
UNESCO's World Heritage Committee recognised 890 heritage sites worldwide in July 2009. China ranked third with 38 sites.
The photo exhibition runs until August 14 at 29 Hang Bai St., Hanoi.