The picture taken by photographer Casey Scholz titled 'Flower Field' won the special prize at the photo contest themed 'Holland-Vietnam in your eyes'.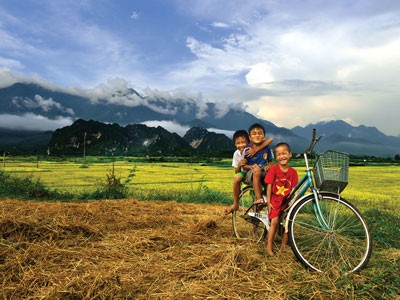 The Flower Field by photographer Casey Scholz
The picture also won in the 'Landscape/Scenery' category.
Launched in September by the Consulate General of the Kingdom of Netherlands in Ho Chi Minh City, the photo contest was one of the many activities to highlight the 'Holland Village 2013' program marking 40 years of bilateral relations between Vietnam and the Netherlands.
The organizers received hundreds of submissions competing in categories of Light/Lighting, Happy Moments, Landscape/Scenery, Lifestyle/ People and Innovation.
Holland Village 2013 will take place at the September 23 Park in Ho Chi Minh City from November 22-December 1.
This year's event is themed 'Trade and Sustainability' and will give visitors an opportunity to learn more about Dutch traditional and modern culture, and technology and innovation via the Dutch business community in Vietnam.
The event includes a series of cultural activities such as 3D-photozone, painting exhibition, food fair and seminars on Water Supply and Waste Water Treatment and Food Safety.