The World Natural Heritage Phong Nha- Ke Bang received "the most attractive tangible heritage" award, confirmed Management Board of Phong Nha- Ke Bang National Park yesterday.
Director of Phong Nha- Ke Bang Tourist Center Le Thanh Loi said that the award is in the framework of Mekong Tourism Alliance Awards (MTAA 2015) offering by the International Tourism Association of Mekong sub-region to honor the best travel agencies, resorts, airlines, heritage centers in 2015.
The annual MTAA aims to praise outstanding achievements as well as contributions of travel agencies in Mekong sub- region.
Earlier, Phong Nha-Ke Bang National Park had received its second UNESCO's certificate as the world natural heritage site in the last month.
Phong Nha-Ke Bang National Park is well-known with the greatest number of plants and animal species, which covers 123,326ha, including tropical moist forest, 94 percents of its limestone mountain and 84 percents of its primeval forest.
There are over 2, 934 species of flora and 800 species of fauna of which some animals are recorded in the International Union for Conservation of Nature (IUCN) Red List.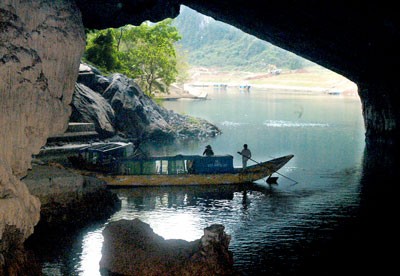 Beautiful landscape of Phong Nha- Ke Bang Site. (Photo:SGGP)