An exhibition titled 'Du fleuve Rouge au Mékong, visions du Vietnam' (From the Red River to the Mekong, Visions of Vietnam) featuring Vietnamese and French artworks is being held at the Cernuschi Museum in Paris from September 21, 2012 to January 27, 2013.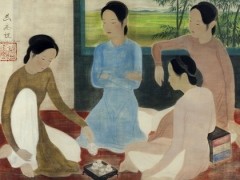 A painting by Vu Cao Dam
The event presents to viewers artworks of well-known Vietnamese veteran painters who graduated from the Indochina College of Fine Arts (now Hanoi University of Fine Arts) like Le Pho, Le Van De, Nguyen Phan Chanh, George Khanh, Mai Trung Thu, Vu Cao Dam, To Ngoc Van, Vu Tien Chuc, Le Thi Luu, Nguyen Gia Tri, Tran Van Can, Luong Xuan Nhi, Luu Van Sin and Ton That Da.
There are also artworks by French artists who came to Vietnam namely Gaston Roullet, Louis Rollet, Jules Galand, André Delacroix, Joseph Inguimberty, Alix Aymém, André Maire, Henri Dabadie, Charles Fouqueray, Francois de Marliave, Géo Michel, Jonchère Évariste, Lucien Lievre and Louis Bâte.
79 artworks in various mediums such as oil, silk, lacquer, watercolor, bronze, and pottery introduce visitors to the beauty of the Vietnamese landscape and people in the past.