The 82nd Academy Awards (Oscar) will be broadcast live via satellite to Vietnamese television viewers, for the first time on a local station on  March 8.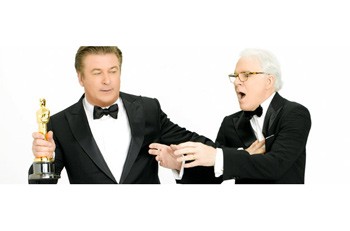 L-R: Alec Baldwin and Steve Martin are set to raise the roof of Kodak Theatre for the March 8 Academy Awards, being broadcast live for the first time to Vietnam. (Source: Oscar)
The broadcast event on Hanoi TV Channel coincides with International Women's Day, so that ladies can start their morning with a peek at the glitz and glamour of Hollywood's biggest day. 
The central stage will see more laughs with two MCs instead of the usual one with the combination of Steve Martin and Alec Baldwin.  
From 5.45am, Hanoi TV will host a conference with the popular local film producers and actors discussing their view on the awards. 
From 8am to 8.30am, the satellite-broadcast will feature Hollywood celebrities walking the red carpet to the Oscars, special interviews with nominees and special guest presenters.
According to the official website, viewers can send messages on Facebook to their favorite stars at the Kodak Theatre in Hollywood. Messages will be passed to the attendees as they go past.
The half-hour welcoming party is a virtual fashion show with the celebrities wearing clothes by the world's most famous designers.
From 8.30am to 11.30am, it's showtime. That means, it's time for some unforgettable moments as the winners in the big categories come up to collect their award: Best Picture, Best Actor in a Leading Role, Best Actress in a Leading Role, and Best Director.