Oscar-winning director, Oliver Stone accompanied by a team of producers Nicholas Simon, Jon Kilik and others arrived in Da Nang airport yesterday afternoon to make a survey of the Son My village in Quang Ngai Province where he will start a film revolving around the My Lai massacre.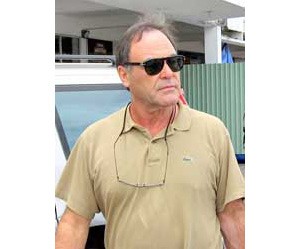 Famed US director Oliver Stone arrives in Da Nang airport
"Pinkville", the title of which is the name American soldiers called My Lai by, will be Stone's fourth film including "Platoon", "Born on the Fourth of July", and "Heaven and Earth." on the Viet Nam War. It was called that, in part, because urban areas were all colored pink on military maps.
Based on a true story, the picture tells about the massacre which occurred in the morning of March 16, 1968. In the course of three hours more than 500 civilians including mostly women, children, and the elderly in My Lai - a hamlet of the Son My village were killed by U.S. soldiers. The My Lai massacre produced a stir in world opinion and was an infamy of the US army at the Viet Nam battlefield.

Hollywood star Bruce Willis most recently seen in Die Hard 4.0 will step into the shoes of the real-life Army general, William R Peers, who was appointed to investigate the murder. Young actor Channing Tatum, 27,  known for his roles in Coach Carter and Step Up, will portray Hugh Thompson, an Army helicopter pilot who rescued survivors of the massacre.

Filming on "Pinkville" written by Mikko Alanne is likely to start next year with a budget of about US$40 million by the United Artists.

As a veteran of the Viet Nam War, Stone is interested in making film on the theme of the war. He covered the field in his Oscar-winning "Platoon," "Born on the Fourth of July" and "Heaven and Earth."