Dr. Nguyen Khac Su, who works at the Institute of Archaeology, said that his team had just discovered a collection of palaeontology lying near other stone tools that belong to Hoa Binh Culture 10,000 years ago. These objects were found from the excavation site at village Eight, ward Dak Wer, town Chu Jut, Dak Nong province. It can be said that there is no such extraordinary collection ever found in Viet Nam.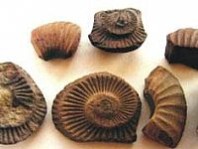 Some objects of the collection were found from the excavation site.
The collection is very special because it was collected by ancient people in the Stone Age and not for working purpose.
Additionally, many fossils are actually fragments of a pebble stone. In making stone tools, the ancient people got pebble stones from breaking hard sandstones.
Some pebble stones that contained fossil ammonoidea inside were preserved. They are ancient representatives of cephalopod to which present cuttlefish and octopuses belong.

They possess beautiful and delicately carved surface which made them unique from ordinary stone tools. By observing stone tools used one can see that some were made in the way they got pebble stones.
It can be assumed that those fossilized ammonites were used as decorative items or for worshiping. Evidence shows they were published on one side which enables them to stand on the table. What's amazing is that only chosen direction toward which those stones are erected, makes them looks the most beautiful.
Ammonites are a group of marine animals that lived mainly in the Mesozoic Era and became extinct together with dinosaurs 65m years ago. This is also a fossilized group that plays an important role in helping us estimate the age of rock layers in the Mesozoic Era. There are many collections of fossilized ammonites but Dr. Nguyen's is the rarest and most beautiful.