Many TV stations throughout the country have "socialized" many of their channels, which means they call on private investment in making programs. However, there are concerns that privatization of publicly owned media is slipping through the backdoor.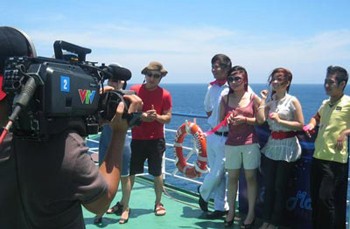 A crew from VTV records a program (Photo: SGGP)
For instance, all programs on HCMC TV's channels HTV1, HTV2 and HTV3 are made by a monopoly of three production houses, Van Thanh Long, Dat Viet and Tri Viet Media.
Many other small companies, who cannot afford to run a TV channel, have to buy air-time.
The most popular way for businesses to make money out of TV is to pay stations to 'exploit' a channel for a year and make all programs, with stations simply approving what is aired.
Many critics have wondered if these TV stations are seeking private investment or even trying to privatize their channels through the backdoor.
SGGP talked with the director of HCMC Department of Information and Communications, Le Manh Ha, to make the matter clear.
Television "socialization" could be understood that TV stations buy programs and films produced by outside companies to broadcast, he said.
But when stations give a channel to private businesses to run for a certain period, which means private businesses buy all equipment, recruit staff and make or buy programs and films themselves, it is not "socialization" but privatization, he said.
Some critics have said that the TV stations take all legal responsibility for the content of programs, as such it is incorrect to say they are privatized.
Mr Ha responded that if it is not privatization, it should be called private businesses "sheltering" the State, as they are quietly funding TV stations.
This is same situation when Vietnam did not have laws on private enterprise; businesses had to hide behind State companies to do business, he said.
Discussing the quality of programs produced by private companies, Mr Ha said that some people set their minds at rest because such programs have been approved by TV stations.
However, he said TV stations could not check all programs' content and they do not have sufficient processes to closely examine all programs.
To improve the quality of TV channels, Mr Ha said that his department has asked the Ministry of Information and Communications to carefully consider the ability of TV stations on human resources and infrastructure before licensing a new channel.
Broadcasting many foreign channels has also helped people access information from other countries. However, relevant authorities should reconsider the number of such channels that are licensed, he said.