Nguyen Hue Flower Street, the annual flower show, may not be organized on Nguyen Hue Street in next year, said Deputy Chairman of the Ho Chi Minh City's People Committee Hua Ngoc Thuan at the concluding ceremony of the event on February 10.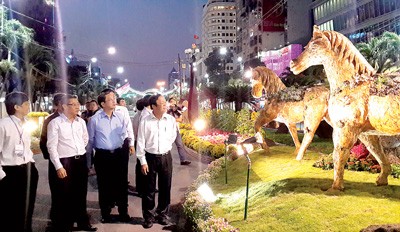 Nguyen Hue Flower Street 2014
The show may move to Le Loi and Ham Nghi streets for 2015 due to the relocation of the "Uncle Ho With Children" monument and construction of Ben Thanh-Suoi Tien metro line No.1 and Nguyen Hue walking street.
Nguyen Hue Flower Street is the highlight of Tet culture in Ho Chi Minh City in the past 11 years. The event attracts more than one million visitors.
The local authorities will offer new additions to the flower show 2015 to mark the 40th anniversary of National Reunification Day.