An exhibition on gold books and other royal gold objects belonging to the Nguyen Dynasty opened at the Museum of Royal Antiquities on April 23.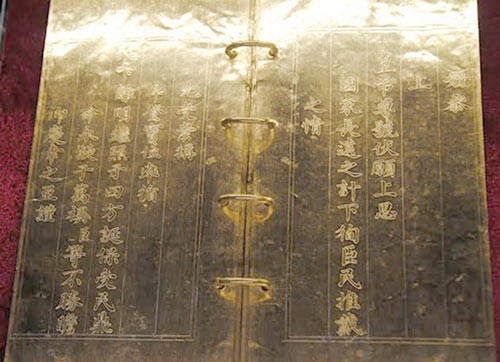 Gold book of 4.529kg in weight reporting the crown of King Thieu Tri
The highlights of the royal objecst are a gold book cast in 1806 under King Gia Long which is 1.371kg in weight, another of 4.529kg in weight from the crown of King Thieu Tri; and a silver gold-plated book weighed 1.349kg of King Minh Mang confered the title Truong Khanh Cong on Prince Mien Tong (the real name of King Thieu Tri who came to the throne in 1841)
A large volume of the Nguyen dynasty's legacy has been preserved in the Vietnam National Museum of History in Hanoi since 1945 to ensure the safety for royal treasures during the war.
The exhibition offers the public a closer view of Nguyen dynasty's royal objects, which have been preserved carefully.