On night of November 15, the first 'Ngo' Boat Race Festival of the Khmer ethnic minority people opened in Soc Trang Province with participation of 500 thousand people.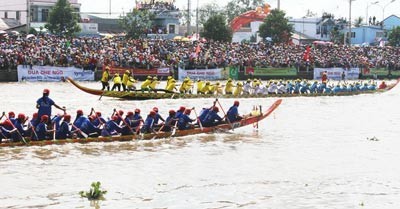 Ngo' Boat Race Festival takes place at the Maspero River (Photo:SGGP)
The 'Ngo' Boat Race Festival attracted 62 teams from the Mekong Delta Provinces, including 49 male and 13 female teams. All teams entered the competition at the Maspero River in Soc Trang City where the traditional 'Ngo' Boat Race Festival began on November 16.
Within the framework of the festival, a series of attractive activities were held, including performing historical plays, commercial fair, exhibitions, and a photography exhibition themed 'Memory of Soc Trang'.
The photos displayed reflected the actual economic life, culture, people and production of Soc Trang.
'Ngo' boat race is considered as one of the activities to celebrate the Ok Om Bok Festival that takes place on 14th and 15th of every tenth lunar month. The event is considered an auspicious festival of the Khmer ethnic community.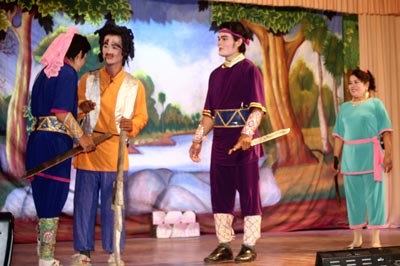 An art performance in the festival (Photo:SGGP)