Over 63,000 Muslim Cham people in Ninh Thuan Province are living in the festive atmosphere of the Ramuvan Festival, the most important annual Cham Muslim festival, which is celebrated from September 11 to 13.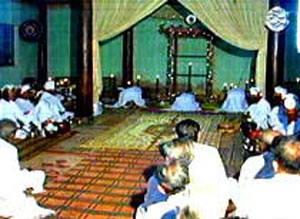 Local people gather for the Ramuvan Festival
Cham people living in Ninh Thuan province make up 11.29 percent of the local population, and 25,536 of them are Muslims.

Thanks to the local authorities' efforts, last year, the province's economic growth rate reached 14 percent, and the number of poor households was reduced to only 19.3 percent.

Since then, Cham people, a part of Ninh Thuan's population have also received great benefits from the province's development. Many of them have managed to escape poverty and have had more opportunities to follow their religious beliefs and attend other social, cultural, and sporting events in the region, the province's official says.

On this occasion, local officials have also visited Cham dignitaries, families, and individuals who had great contributions to the province's development.

Ramuvan Festival is an event with a strong sense of religion and folklore belief. The festival is divided into many small parts representing a human's process of development since his birth to the day he breathes his last. The most exciting part of the festival is the ending event when monks, followers and people from all walks of life head to the local cemetery to pay tribute to their ancestors. Many folk games and singing performances also take place during the festival.