Tran Long An, Chairman of the Musicians Association in Ho Chi Minh City accompanied by other musicians visited and gifted flowers to fellow musician Phan Huynh Dieu on occasion of his 90th birthday on November 11.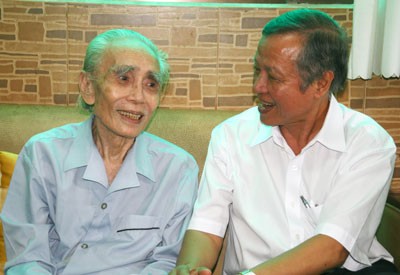 Musicians Phan Huynh Dieu (L) and Tran Long An (Photo:SGGP)
Mr. Phan Huynh Dieu was born in Da Nang in 1924. He is well-known as one of the most outstanding musicians of Vietnamese music. He has made many contributions to the development of Vietnamese music and has been named 'Gold Bird of Vietnamese music'.
Most of the songs by Phan Huynh Dieu are revolutionary songs and love songs such as " Cuoc doi van dep sao", "Hanh khuc ngay va dem", "Nhung anh sao dem", "Bong cay Konia", " Soi nho soi thuong", "Thuyen va bien", "Nho on Bac" and others.
During his musical career, Phan Huynh Dieu composed hundreds of songs with beautiful melodies and lyrics. Most of his songs were recreated from his poems.
For his great contribution to Vietnamese music, Phan Huynh Dieu was honored with the Ho Chi Minh Award.