A Japanese and a Vietnamese guitarist will together perform folk-songs of the two countries in a classical guitar concert at the Cultural House of Phu Nhuan District in Ho Chi Minh City on November 21.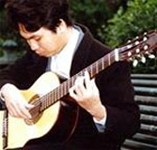 Guitarist Tran Hoai Phuong
Japanese guitarist Kozo Tate was attracted by Vietnamese folk songs when he first performed in Ha Noi in 2003 and at the Cultural House of Phu Nhuan District in Ho Chi Minh City in 2004 for the second time.
Meanwhile Vietnamese guitarist Tran Hoai Phuong was charmed with variations based on Japanese folk song Sakura by musician Yuquijiro Yocoh.

Phuong was known for his best-selling CD Gop la mua xuan (Collecting Spring's Leaves) presenting 10 romantic songs by Vietnamese famous musician Trinh Cong Son.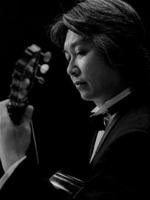 Guitarist Kozo Tate
Kozo Tate and Tran Hoai Phuong performed together in Ha Noi in November 2004 and this is the second time they meet again in a joint concert.
A 'globalization' quality is clearly represented by the concert's musical turns. Besides the Japanese and Vietnamese folk songs, guitar lovers will have chances to enjoy songs composed by such famous musicians as Mexico's Manuel Ponce, Czech Republic's Jiri Jirmal, Argentina's Astor Piazzolla, Italia's Giulio Regondi, Spain's E.Sianz de la Maza, Cuba's Leo Brouwer, France's Napoleon Coste and Viet Nam's Van Cao.