A trip to Nguyen's Dynasty handicraft museum, located in the central city of Thua THien-Hue, reveals a plethora of unique items and rich cultural heritage.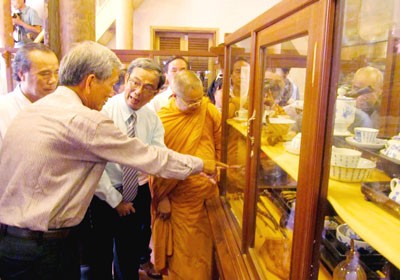 Researcher Tran Dinh Son introducing ancient items to visitors of the museum (Photo: SGGP)
At 114 Mai Thuc Loan Street in Hue City, research Tran Dinh Son's museum was official open to the public on April 26. The museum is home to handicraft items typically found in historic Nguyen Dynasty from 1802-1945 for ancient people's four pleasures such as chewing betel, drinking tea, smoking and drinking wine.
Entering the museum, visitors step lightly in order not to disturb the peace and quiet.
The article collection used to eat betel including trays, boxes,  lime-pots, knives to cut betel, spittoons, cups, hubble-bubble pipes, tobacco pipe, various wine decanters, bottle of wine which are made of wood, wood incrusted with mother-of-pearl, gold, silver and bronze, ceramic, bamboo and elephant's tusks.
The exhibited items surely interested many young people and handicraft artisans of nowadays as they can watch precious exhibits that were made 200 years ago.
The museum is the ancient house of Tran Dinh Ba, Minister of Justice in Nguyen Dynasty, great grandfather of researcher Tran Dinh Son. After 1975, the house had been used as a shop and left unoccupied for over 10 years.
At present, the house was restored at the cost of VND3 billion ($143,672) to convert into museum to display traditional items. In the next time, the museum will exhibit ancient items in eating and reproduce traditional activity space of Hue people in the old time.