The Viet Nam Museum of Ethnology promises to entertain the public in the post-Tet weekend with a range of cultural and folk-related activities to celebrate the Lunar New Year holidays.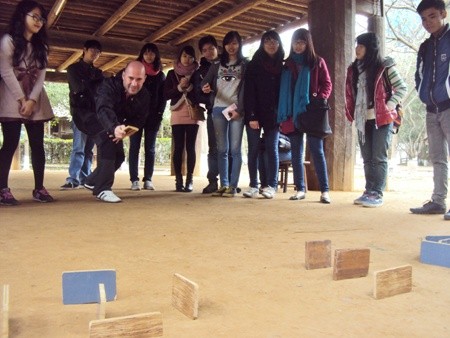 Young visitors see a foreigner playing a Vietnamese folk game at the Museum of Ethnology.
People from the central Ha Tinh Province, northern Hoa Binh Province and the northern port city of Hai Phong will travel to Ha Noi to present art performances, folk games and traditional cuisines in the outdoor space of the museum on February 8 and 9. The museum is located in Nguyen Van Huyen Road, Cau Giay District, Ha Noi.
Artisans and artists from Ha Tinh will perform folk songs and dances, make conical hats and weave sedge mats. In addition, visitors can learn about fortune-telling based on Kieu tale (an epic poem) from researcher Nguyen Thi Van Huyen, who is a descendant of the great author Nguyen Du.
The Cultural Heritage of Muong Museum will participate in the events with typical cultural activities of the ethnic minority group of Muong in Hoa Binh Province, such as throwing con, a sacred ball, through a ring erected on top of a bamboo pole, and singing traditional ritual rhythm songs.

People from Hai Phong will dance with four sacred animals, for example the lion dance, make clay crackers and perform water puppetry. At 6pm on the night of February 8, a combined performance of traditional ritual songs and dances and fireworks will take place in the front yard of the museum.
Besides folk games of shuttlecock, walking on stilts, catching loaches in big jars, swinging and rolling pomelos among many others, visitors can savour numerous local specialties such as noodles with beef, black glutinous rice, eel soup, green tea, herbal vegetables, fried pork with pomelo leaves, chicken and young bamboo.
All activities will take place on February 8 between 8.30am and 5.30pm. For the following day Dong Ho woodblock paintings and water puppet shows have been specially planned.