The 600 meter-squared Museum of Vietnamese Traditional Medicine (FITO) opened its doors to the public on Thursday.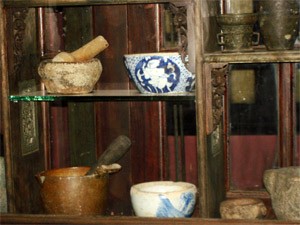 Some wooden items are displayed at the museum(Photo:U.Phuong)
The museum is home to approximately 3,000 various articles typical of those used in a traditional Vietnamese pharmacy for the preparation of traditional medicines.
Of the many items on display several ceramic articles date back as early as the Stone Age. Other items include knives, pestles and mortars, pots, medicine jars, scales, cabinets, printing molds, spirit gourds, tea pots etc.
The museum has been set up to depict the rich cultural heritage of traditional Vietnamese medicine.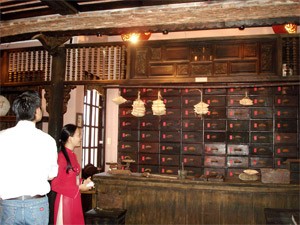 Museum guide(in red dress) instroduces an old-fashioned pharmacy to the visitor(Photo:U.Phuong)
The design and construction of the museum is in the style of traditional Vietnamese architecture and has 18 exhibition rooms spread over six floors.
Mr Le Khac Tinh, one of the founders of the museum, said that it took 10 years of searching to collect all the items for the museum, which itself took more than three years to build.

The FITO museum, located at 41 Hoang Du Khuong Street, District 10, is open daily from 8:30AM till 5:30PM. Tickets cost VND32, 000 for adults and VND16, 000 for children.