Vietnam Fashion Magazine or 'Mot Vietnam' officially makes a come back today, after a period of suspension in its publication.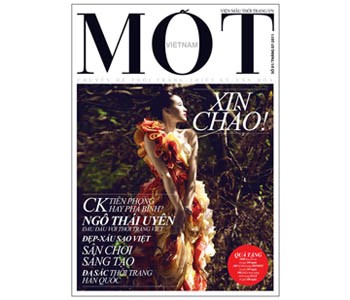 Mot Vietnam makes comeback
The magazine broke publication temporarily to revamp its human resources and seek new ways to remodel the magazine to be as competitive with other foreign fashion publications available on stalls now in Vietnam.
 
With their slogan "Sân chơi Việt- tinh thần Việt- trí tuệ Việt":-'Vietnamese magazine – Vietnamese spirit – Vietnamese intelligence', Mot Vietnam aspires to become a platform for Vietnamese designers to promote their creative ideas and boost the Vietnamese fashion industry.
Mot Vietnam will now present the latest trends in fashion in Vietnam as well as all across the world. The magazine will not only address connoisseurs of fashion but also offer opportunities for fashion entrepreneurs to promote design ideas and their creative talents.
Every Mot Vietnam copy, costing VND19, 500, will have a coupon worth VND300, 000 to win over 1,000 fashion gifts from Elle, Aimless and Mommy.