Tuyet Lan, runner-up of Vietnam's Next Top Model 2010, will be in China to compete in the "2011 Elite Model Look World" contest to be held in Shanghai from November 24 to December 12.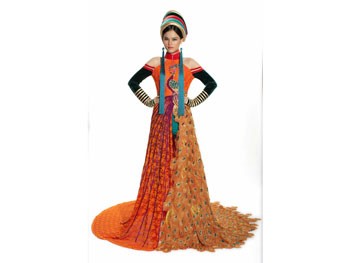 Lan wears a special traditional costume designed by Vo Viet Chung.
Lan will compete against 65 contestants from many countries.
She will be wearing a special designer costume by Vo Viet Chung in the contest. The traditional costume is made of lace and velvet with colors of orange, teal and metallic gold with sheen, together with pheasant feathers and gemstones.
Chung took more than 500 hours to complete the dress, which has been inspired from the traditional costumes of the Dao ethnic people.
Lan won the Asian Model Search contest in Singapore in May.

The model triumphed over contestants from countries such as Thailand, Philippines, Malaysia, China, Hong Kong (China), Taiwan (China), Japan, South Korea and India by her sheer confidence and professionalism on the catwalk and during photo shoots.

The organizers have planned promotional activities to boost the image of Tuyet Lan in Singapore and other countries in the region.

Lan donated part of her cash prize of SGD10,000 to Japanese disaster victims and to the Thi Nghe Center for Orphans and Disabled Children in Ho Chi Minh City.