Tran Hong Thuc Trang of Mitsubishi's representative office in Ho Chi Minh City has won the Japanese category of a haiku competition launched in June by the Japanese Consulate General.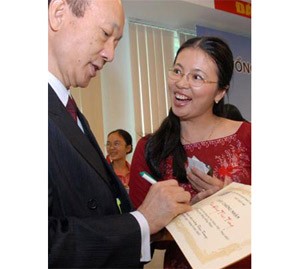 Japanese Consul General Ikuo Mizuki (L) signs his name on the certificate of merit offered to Tran Hong Thuc Trang.
Trang's six haiku poems about the spring were a notable success, the organizers said.
"I am so surprised about winning the first prize because I have been learning Japanese for just three years and only began studying haiku after I heard about the contest. To compose haiku, we must have a fine feeling for nature and everything around us," the winner said.
Japanese Consul General Ikuo Mizuki was surprised by the huge and unexpected number of entries in the contest, which drew nearly 4,000 haiku poems from 400 newfound enthusiasts and old hands.
Besides Trang's first prize, there were four seconds, six thirds and 12 consolation prizes awarded in the Vietnamese and Japanese categories.
Haiku has been around for 400 years and is regarded as the shortest form of poetry in the world. Only three lines are written to express the author's thoughts and feelings as concisely as possible.

Related article:
Haiku Contest Launched in Viet Nam