The local diamond and gem company, Goodman, is officially launching a new social campaign to help poor couples successfully reach their final destination: marriage. Upon this campaign, 1,000 wedding rings are pleased to give for free to 500 poor couples in Vietnam.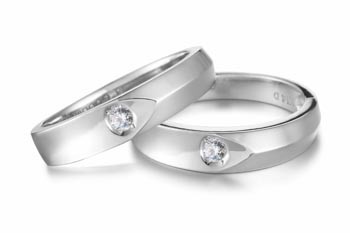 The diamond wedding ring is platinum-plated and has silver core (Photo: Courtesy of Goodman)
This action is supposed to help these people who are dreaming of their wedding but hesitate to make this dream come true, as they have no money to purchase wedding rings - an importantly necessary part of the wedding.
The special gifts, worth VND1 billion (US$51,280) in total, are willingly delivered, from Sep 10 to Oct 10, to not only young couples who are planning their marriage but also to those who are just married or have already enjoyed their married life for many years, without a perfect start with wedding rings.
A representative of Goodman shared his ideas about the campaign, "Our grandparents and parents, at that time, were not really rich to buy wedding rings and obviously their weddings were not complete. Wedding ring represents the love, lifetime happiness, and also a strong passion of the couple to overcome the obstacles from marriage. Our work aims to complete their marriage."
Application is posted on the company website: www.goodman.vn , also with the full information about the campaign. Couples need to complete the application with their real personal details and answer five questions about Thang Long Royal Citadel. Friends or relatives of the candidates can register and answer for them but they must collect the rings by themselves.
Selected applicants will collect their rings at three main shops of the Goodman, including Now Zone (South), Riverside Mall (Central) and Vincom Gallery (North). There, they will receive not only rings but also VND300,000 ($15) in cash as subsidy for their trip to the places. 
Goodman is a brother of the ZELA, the main sponsor for the 2010 Miss Vietnam Global crown, together work under the mother company as the Diamond Trading Company Ltd.