The top three winners of the 2nd Miss Ethnic Vietnamese 2011 pageant will represent Vietnam in international beauty contests in 2012, according to the organizers International Advertising and Trade Fair Company (CIAT) and the Committee for Ethnic Minority Affairs.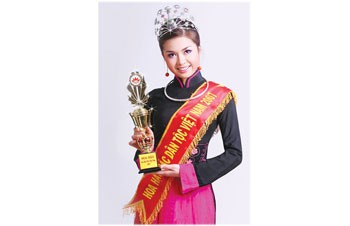 Nguyen Thi Hoang Nhung, Miss Ethnic Vietnamese 2007
The beauty pageant aims to honor women's traditional values, beauty, talent and intelligence as well as strengthen solidarity amongst ethnic minority groups.

Contestants will compete with each other in a swim suit contest, a Q&A session, flower arrangement, singing, dancing, cooking, weaving, meditation and yoga.  They will also participate in social, cultural, charity and environmental protection events and visit cultural and historical sites.

The winner will receive a cash prize of VND100 million. The first and second runner-up will receive cash prizes of VND70 million and VND50 million.

The organizer will also award lesser titles including Miss HCMC, Miss Friendly, Most beautiful ethnic costume, Most beautiful body, Most beautiful face, Most beautiful skin, Most talented, Miss ao dai, Miss mountainous region, Miss tourism, Most beautiful hair and Most beautiful smile.

The final round will take place in Ho Chi Minh City from November 26 to December 10.
The final awards ceremony will be held at Hoa Binh Theater in District 10 in HCMC at 8 p.m. on December 12. The event will be broadcast live on HTV and VTV channels.