The Mekong Delta is a land of festivals and diverse cultures since it is inhabited by a slew of different ethnic groups like the Kinh, Khmer, Cham, and Hoa. However, in recent times, the big worry is that cultural life has begun to stagnate here.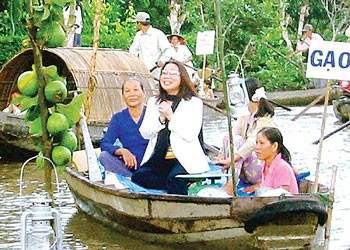 Famous cai luong actress Bach Tuyet (white coat) performs on a boat in Hau Giang Province
The director of the Can Tho Department of Culture, Sport and Tourism, Dinh Viet Khanh said though most towns in the region have been designated as cities, there is little for their inhabitants by way of entertainment or leisure activities.
The uninspiring bio-tourism areas here attract few people. Most cultural houses, whose doors are shutting one by one, do not hold any attraction for the younger people.
Don ca tai tu (southern amateur music), the most popular art form in the delta, is facing pressure with its very survival being threatened. It has not been recognized as a cultural tourism product like Quan ho duet singing in the northern province of Bac Ninh and Hue's royal music.
Cinemas and cai luong theatres once developed strongly and attracted people but their heydays were in the 1980s and 1990s.
A survey by the Can Tho University's Mekong Delta Development Research Institute of what most people are interested in founding social and cultural information at the top with 69 percent.
It was followed by technology, agricultural prices, food hygiene and safety, law, and environment.
In the event, it comes as no surprise that food for the people's mind is provided mainly by the Internet, television, and radio, a less than desirable state of affairs.