Ho Chi Minh City book street has also contributed in promoting the reading habit in the community and create a cultural space for the local people, she added.

Launched on January 9, 2016, the book street on Nguyen Van Binh Street in District 1 received 1.5 million visitors, sold more than 500,000 copies of books and reached the revenue of VND26 billion in the first year. Meanwhile it saw around 2.4 million visitors, the number of 750,000 copies sold and a revenue of VND40 billion in 2017.
The high revenue from book sales is expected to help publishing houses maintain their activities in the book street.
The 200-m long section adjacent to the iconic Central Post Office in the heart of the city is designed to provide a location for businesses in the publishing sector to organize events and present products, and a cultural space for book enthusiasts.
The pedestrian-only street includes more than 20 book stalls featuring books and magazines from domestic and foreign publishers. The booths have been operated by publishers and distributors such as Kim Dong Publishing House, Tre (Youth) Publishing House, Tong Hop (General) Publishing House and others.
The book street has currently seen 5-10 activities organized every week, including exchanges between writers and readers, discussions, talk shows, book signing, book release and among.
Many new activities are expected to be launched in 2018 by publishers, such as organizing library, book fair offering rare and old books and more.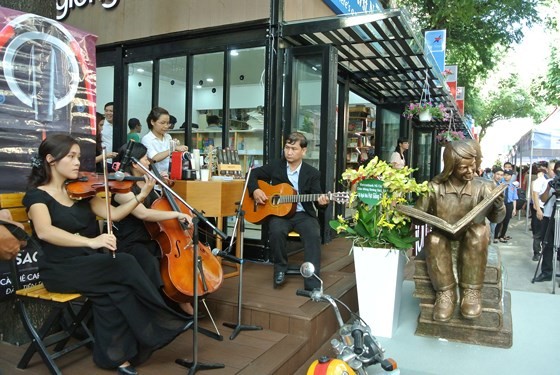 A music performance in the book street