Journalist Nguyen Chi Tan who is the initiator of the Ho Chi Minh City Television's Master of Ceremonies (MC) Contest has so much enthusiasm about this year's 7th competition.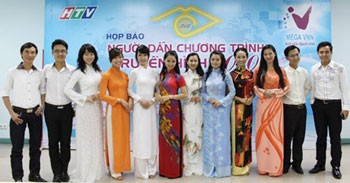 12 contestants of the final round of 2010 Ho Chi Minh City Television's Master of Ceremonies Contest.

"It is not easy to become a good MC. He/she not only has a large knowledge, but also he/she gets a friendly face, good memory, intelligence and elegance. A MC also has to perceive the script and ideal of programs quickly" he said.

"MC should be provided regular training to satisfy demand of the communication industry" he added.
Winners of the previous competitions such as Quynh Tram, Kieu Hai Chuyen, Anh Quan, Hong Phuong, Quoc Binh, Tuan Anh, Nhu Quynh and others are now famous MCs.
As a head of the organization board during six years, he therefore focuses on creating a useful playing field for young people who have a passion for the emcee career and discovering talents for the communication and TV industry in the country.
This year's contest, the journalist takes a role of head of the jury. He wants to promote the event widely as well as get good feedback from the community.