A concert featuring classical and modern compositions of Mozart, Ligeti, Glanert and Piazzolla will be performed by the Ma'alot Quintet at the Hanoi Youth Theater on November 18.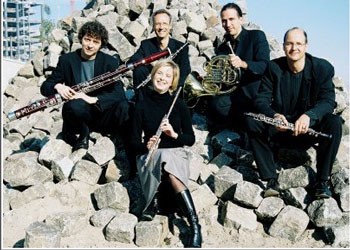 The Ma'alot Quintet
The event is part of the European Music Festival 2011 organized by the Goethe-Institute in Hanoi.
Formed in 1986, the Ma'alot Quintet consists of flutist Stephanie Winker, oboist Christian Wetzel, clarinetist Ulf-Guido Schäfer, French hornist Volker Grewel and bassoonist Volker Tessmann.

The group is one of the leading international chamber music ensembles. Their repertoire includes from classical works to the avant-garde of their own arrangements and premiere works by contemporary composers.

Ma'alot has won several first prizes in major international competitions, as well as earning praise and awards for their CD recordings. Ma'alot has toured Asia, the US and South America. All members of the ensemble are active soloists in major German orchestras or professors at music conservatories.

The concert concluded at the Ho Chi Minh City Conservatory of Music on November 17.