Ngo Phuong Lan of Viet Nam won the final of the first Miss Vietnam World pageant at the Vinpearl resort near Nha Trang last night.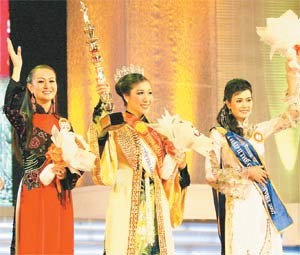 Ngo Phuong Lan (C), Miss Vietnam World, Teresa Sam (L), the first runner-up and Dang Minh Thu (R), the second runner-up in the entronment night

The 37 finalists who appeared before a 5,000-strong audience had been chosen from 4,000 original entrants of Vietnamese origin in the qualifying rounds here and outside the country.

The finalists included 13 contestants from Germany, Britain, the United States and elsewhere.

Five got through to the interview stage: Vu Ngoc Anh of Ha Noi, Nathalie Tran, who had won the regional final for the SNG countries, Teresa Sam of Britain, Dang Minh Thu of Viet Nam's Nam Dinh Province, and the eventual winner Ngo Phuong Lan, who is studying in Switzerland.

Responding to the question "Why are a beauty queen's activities always associated with charity?", Ngo Phuong Lan answered: "Goodness is beauty. Truth, goodness and beauty are attributes of Vietnamese women. They are what people in general strive for. And a beauty queen can only be truly beautiful if she devotes her time to charitable activities."

Phuong Lan's answer drew loud applause from both the judges and the audience, and so she won the "Miss Interview" award as well as the main title. She also won a foreign trip and other prizes valued at US$20,000.

The first runner-up was Teresa Sam, who picked up US$8,000, ahead of Dang Minh Thu, who won US$5,000. They also received gifts valued at US$1,000 from the contest's sponsors.

Nguyen Cao Thu Van, who came third in the 2007 Miss Universe contest in America, won the Miss Photogenic award, Nguyen Kang Wun from Germany scored the Miss Tourism prize, and Nguyen Thi Van Anh, who had come second in the regional final for the SNG countries, won the Miss Beach title. Each received US$1,000.

Vu Ngoc Anh was named the gal with the best complexion, and Anna Hua Ngoc Anh the most fetching in an ao dai (traditional dress). Nguyen Anh Ly received the Most Impressive Performance award and Tran Ngoc Bich picked up a prize for wearing the most beautiful gown in the judges' eyes.

According to the organizers, the beauty pageant was held to honor the beauty of Vietnamese women in the modern era.

The fact that Ngo Phuong Lan, a tall lass with a shapely 85-61-92 figure, and the other contestants showed themselves not only to be physically but also intellectually beautiful proved that the organizers realized their goals.