The television series "Life law" received all the major awards at the Viet Nam Television Film Awards 2007. The show is produced by the Viet Nam TV Film Company, a subsidiary of Viet Nam Television, and directed by Mai Hong Phong and Hoang Nhung.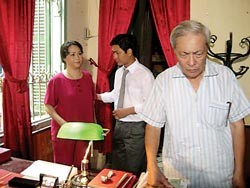 Actor Ha Van Trong (R) in the film "Life law".
Actor Ha Van Trong, who plays Mr. Hoe in "Life Law", won Favorite Actor, and Dieu Huong, who plays Kieu Linh in "Life Law", took the Promising Young Actor Award.
Only 11,430 votes were cast this year compared to 37,790 votes last year. This year also saw a lower number of films nominated for the Vietnam Television Awards.
Only three shows, "Life law", "Ghosts of the village" and "Apprentice reporter," received a large number of votes. With 4,079 votes, "Life Law" won the Favorite Television Film Award.
Although Viet Nam Television always broadcasts Vietnamese shows in prime time, foreign movies dominate with audiences. The winning shows are usually produced by Viet Nam Television. The station should provide more opportunities for shows made by other studios, said filmmakers.
The ceremony was held at the Viet Nam Television studio in Ha Noi Sunday.