South Korea's movies giant CJ-CVG will spend US$ 73.6 million to own 80% shares of Megastar, the largest multiplex cinema system in Vietnam.
This was announced on Film Business Asia (FilmBiz) recently.
On July 12th , representative of CJ-CGV confirmed the deal with British Virgin Islands' Envoy Media Partners which is holding as maximum as 80% of Megastar Group.
With its investment, CJ-CVJ will hold 92 percent of the total share of the British Virgin Islands' Envoy Media Partners which currently owns 80 percent of Megastar.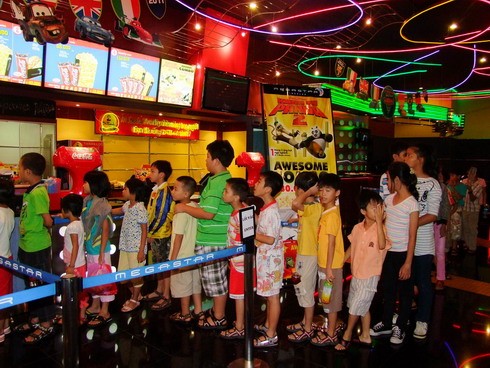 A Megasta cinema
Brian Hall, chief of the Executive Board of Megastar said the acquisition would be completed in one month and Megastar had been looking forward to be a part of CJ-CVG, one of the most prestigious distributors in the world. CJ-CVG is now controlling 30% of the movie market of South Korea, with ten of thousands of cinemas. Its capital totals to US$ 400.
CJ-CVG's latest action is considered part of its plan for international expansion which already included opening a small multiplex in Los Angeles in the U.S, five others in China and other plans in Vietnam and India.
Other shares of the cinema chain ( 20%) are being held by local Vietnamese publisher Phuong Nam Culture Corporation.
Phan Thi Le, head of Phuong Nam Publisher said the purchase would not affect its capital structure and capital contribution ratio to Megastar.
"Investment to Megastar is an important step of CJ-CVG's global strategy," Le said. "We think this is a chance for Megastar to be financially capable of developing its business more in Vietnam."
After launching its first cinema in Hanoi in 2006, Megastar has expanded into 7 sites and 54 screens all over Vietnam, from Hanoi, Hai Phong to Ho Chi Minh City, Da Nang, and Dong Nai.
Holding a total asset of US$ 38 million and taking up 60 percent of the total box office revenue in Vietnam, Megastar is the leading film distributor and local operator in the country.
When the deal is closed, most of Vietnam's cinema theatres will be put under South Korea's ownership. In 2008, Lotte Shopping- Entertainment, a cinema operator coming only second to CJ-CVG in Korea also bought Diamond Cinemas (DMC), which has since then developed into 6 sites in HCMC and Da Nang.
Although the Vietnamese film industry suffered from a recession during the 1980s and 90s when Vietnamese stopped going to the cinemas, it has recovered substantially with an annual growth rate of 20 percent.
According to Film Business Asia, the movie market in Vietnam has risen from US$ 2 million worth in 2006 to US$ 25 million in 2010, with one-fifth of the total revenue coming from domestic movies.
Last year Megastar was accused of unfair competition in movies industry by 6 Vietnamese film companies but the lawsuit has not been brought to the trial yet.