Nearly two dozen South Korean artists will arrive in Vietnam on September 27 for five days of sightseeing and mixing with Vietnamese artists, including a football match to raise money for disadvantaged students.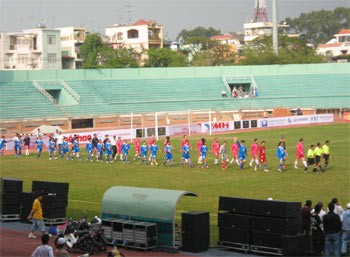 Korean and Vietnamese artists took part in a friendly football game at Thong Nhat Stadium last year (Photo: KK)
The occasion is the 15th anniversary of diplomatic ties between the two nations.
Well-known actors and singers like Kim Heung Guk, Bae Seong Woo (Tak Chea Hoon), Kwon Hyon Min, On Cheong Hoon, Lee Pyeong Uk, Eum Moon Seok, Lee Ky Yeong and Lee Young Chae will take in the sights of Ho Chi Minh City and tour a few film studios.
On September 30 they will take on veteran Vietnamese artists including Bao Quoc, Hoang Son, Phuoc Sang, Quyen Linh, Chi Bao and Hoang Phuc in a friendly football game at Thong Nhat Stadium starting at 3 pm.
The trip's organizers are the Viet Nam Cinema Association and the Republic of Korea's Dream Artist Club.
The South Korean embassy and consulate general are also involved, as are the Ho Chi Minh City Sport Department and HCMC Television.