Kinh van hoa's record in the publishing world remains unmatched with the most number of chapters (54), most number of printed copies (over 1 million) and the fastest reprinted story (after a year of publication).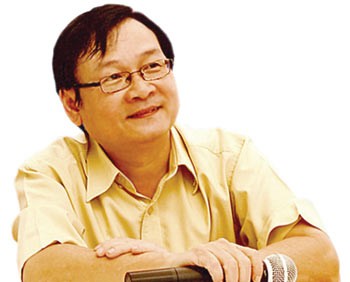 Writer Nguyen Nhat Anh (Photo: SGGP)
It is also a story with the most number of characters (about 2,000) and receiving the most number of letters from readers and the most number of books to be signed by a single author.
The success of this story was so phenomenal that Kim Dong Publishers, for the first time ever, opened an exclusive bookstore for writer Nguyen Nhat Anh on 48 Ho Van Hue Street in Phu Nhuan District, HCMC.
The writer modestly claimed that he had written the book for children not about children. After completing the 45th chapter of this children story, writer Nguyen Nhat Anh received many letters from readers asking him to continue with the story. He finally relented and added more chapters to Kinh van hoa in 2007.
The storyline of the book inspired film makers to produce a TV film of the same name Kinh van hoa, which was telecast in 2004. Comprising of 28 episodes, the film Kinh van hoa broke the record as the longest running film on TV made from a literary work.
According to most readers, the film ran successfully as it was a close interpretation of the original book. Nevertheless, Kinh van hoa remains so far the most favorite children's film.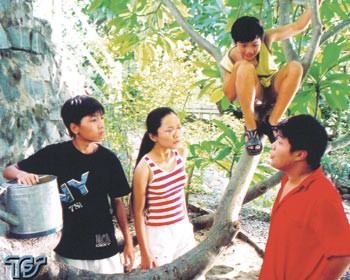 Main characters in the film Kinh Van Hoa (Photo: SGGP)
According to Nguyen Nhat Anh, even though the film was successful it came with a few problems. Initially the publisher had used images of the main actors of the film on the cover of the reprinted edition of Kinh van hoa.
However, these actors were seen elsewhere in situations that did not lend credibility to this children's story, likes actor seen smoking in their other films. This led to the decision to use illustrated paintings in forthcoming reprints of the story which would remain forever immortal as the literary characters Quy Rom, Tieu Long and Hanh.